Imagine products with the same quality as top brands from clothing to home textiles for only a few dollars, up to 90% lower than top brands! Voghion, as a front-runner, is exactly the spot to do just that. Voghion's commitment to offering high-quality products at incredibly affordable prices has struck a chord with consumers.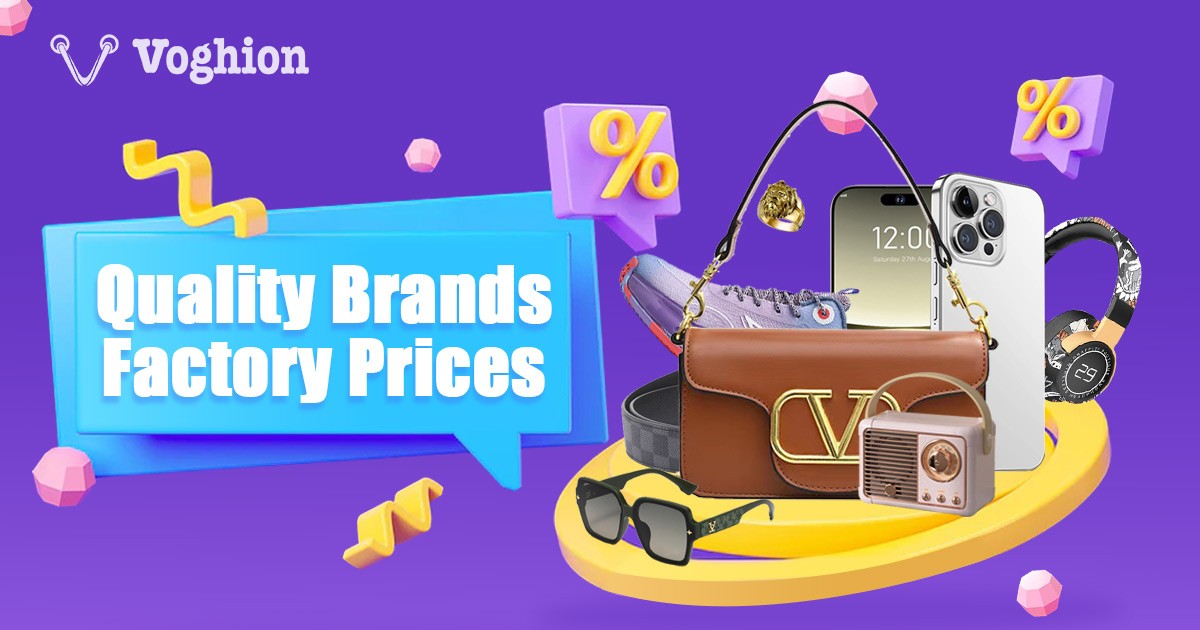 One ecstatic Voghion customer couldn't contain her excitement, exclaiming, "I am blown away by the quality and affordability of the products I purchased from Voghion! It's truly a game-changer. I've recommended it to all my friends and family." Another satisfied customer raved about their recent shopping spree, saying, "Voghion offers top-notch products at unbelievable prices. I never thought I could find such high-quality items without breaking the bank. It's my new favorite online store!"
Voghion's Development History
Voghion, the fusion of Vogue and Fashion, was established in London in 2021 with a primary focus on European consumers. The brand aims to provide customers with a wide range of high-quality products across various categories at factory prices.
Compared to giants like Amazon, Shein, and Temu, Voghion has emerged as a significant player in the market. When it comes to products of similar quality, Voghion offers much more affordable prices compared to Amazon. In terms of quality, Voghion surpasses Temu while offering similar price ranges. Additionally, Voghion stands out from Shein by providing an extensive range of product categories. With over 200 categories and hundreds of thousands of products, Voghion covers every aspect of consumers' lives, while Shein currently focuses primarily on fast fashion.
Within just six months of launching its online shopping app, Voghion successfully entered the top ten shopping lists in various European countries. This remarkable achievement demonstrates that the majority of consumers eagerly seek affordable yet high-quality products. Combined with the impact of the pandemic, Voghion has become the preferred destination for shopping among European consumers.
Voghion Has Diverse Range of Product Categories
Voghion boasts an extensive catalog with over 200 product categories, catering to every consumer's needs and preferences. From fashion apparel, footwear, and accessories to home decor, electronics, beauty products, and more, Voghion offers a comprehensive selection. Customers can easily find everything they desire under one virtual roof.
Moreover, Voghion continuously expands its product offerings, staying ahead of trends and providing customers with the latest in fashion and lifestyle. With regular updates and new arrivals, Voghion guarantees that customers can stay on top of their style game and enjoy a fresh selection every time they shop.
In order to ensure that customers can easily find their desired products amidst the vast selection, Voghion has implemented an accurate and detailed classification system for all its products. Users can navigate through the category pages effortlessly, easily locating their desired product categories. And Voghion boasts a powerful search system that allows users to search for specific products using keywords. This enables customers to find their desired items with greater precision and efficiency. Besides, Voghion utilizes a robust personalized recommendation algorithm. This algorithm analyzes customer preferences and browsing history to provide tailored product recommendations. As users freely browse through the platform, they are more likely to come across products that align with their interests.
Through these initiatives, Voghion ensures that customers can navigate its extensive product range effortlessly, enhancing their shopping experience and enabling them to discover new items that align with their tastes and preferences.
Unveiling the Secret to Voghion's Affordable Prices
The question on everyone's mind is how Voghion manages to offer its products at such affordable prices without compromising on quality. The answer lies in their innovative business model and strategic partnerships. By collaborating directly with trusted brand manufacturers, Voghion bypasses intermediaries and the associated costs. This streamlined supply chain allows Voghion to negotiate competitive prices, enabling them to pass on the savings to their customers.
Additionally, Voghion operates with a customer-centric approach, prioritizing their satisfaction and long-term relationships over excessive profit margins. The brand focuses on volume sales, allowing them to maintain affordability without compromising on product quality. By putting customers first, Voghion has built a loyal customer base that appreciates the incredible value they receive.
For the majority of consumers, Voghion's high-quality products at super affordable prices are exactly what they are called for.